Download: 580 Unicorn Startup Companies – Excel file with data on the World's 580+ startup companies valued at 1 Billion US $ or more
Browse, filter, and use data easily on the 580 startup companies from around the world that have reached a valuation of 1 Billion US Dollars or more.
Download description
This Excel file contains 2 actionable spreadsheets:
1. The main list of unicorn companies Excel spreadsheet contains all the key data on each startup company. These 580+ Unicorn Startups from around the world are detailed with extensive business, market, financial, and digital information.
The unicorn list includes companies that fit the "usual" definition of a startup: an independent company that is engaged in fast growth, particularly through fund-raising, and has not yet launched its Initial Public Offering (IPO) to get listed on a stock exchange, or not yet been acquired. AND these companies have also reached the "Unicorn" status, that is to say, a valuation at or above 1 Billion US $.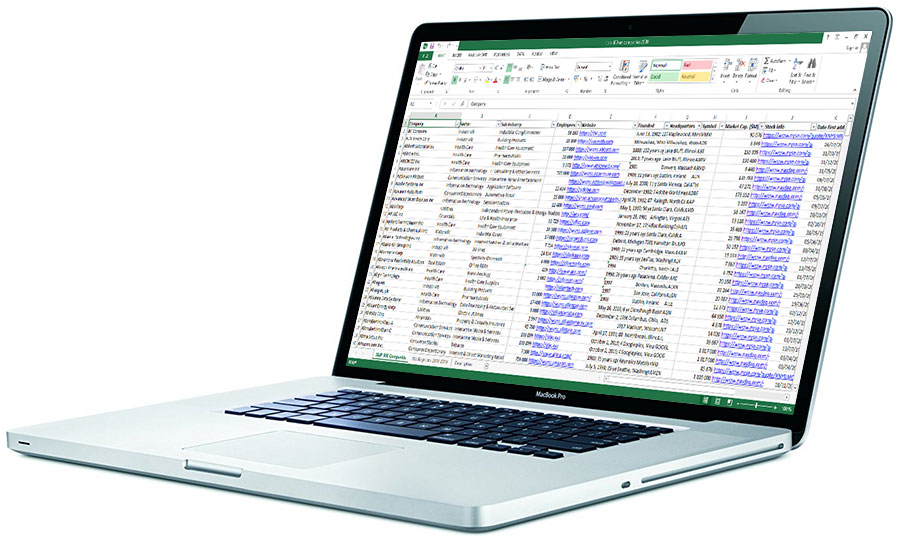 This list of unicorn companies, and their related data, can easily be browsed and filtered according to your specific purposes: grouping by countries or industries, ranking by valuation or raised capital, sorting investors or websites, etc.
2. The secondary spreadsheet lists 101 more key startup companies that were not included in the main list of unicorn companies because they do not correspond to the previous definition of a "Unicorn" startup. Even though some other sources may mention them as Unicorns, they were not included in the main spreadsheet because they have either been closed, acquired, have launched their IPO in early 2020, 2019 or late 2018, their value has dropped below 1 Billion US $, or they actually are not independent of their founders as they were created by stock market-listed companies or government organizations.
Since the list of unicorn companies often differ between different sources and purposes, the companies analyzed that didn't fit the definition used here are still presented in the secondary Excel spreadsheet for people who could be interested in them or need information on them.
✅ Key benefits from the 580 Unicorn Startup Companies Excel Download
Quickly browse and filter the companies' information in a single convenient Excel file for multiple purposes, including:

companies benchmarking for marketing, finance, and investment
searching and filtering companies for informed lead generation
quickly reaching companies' websites and online presence in bulk
using companies data to perform analysis, statistics, and machine learning for business, marketing, financial, and investment insights

Keep all the information readily available on your computer at any time, even offline.
Easily use the companies' data in other applications and programs thanks to a standard Excel file (.xls/.xlsx).
Save tens of hours of companies' information search, collection, and formatting in one convenient Excel file.
Use data to boost your productivity and discover decisive insights, NOW!
Featured Review
Ben Perkins – Business Developer, Fintech
⭐⭐⭐⭐⭐
[…] great and very complete list. Not only can I search and group startups by country, size, and industry, but I can also reach their websites directly from the file. No need to search online anymore, it saves a few minutes for each company… multiplied by five hundred! Thanks
Free sample
To let you know exactly what the 580 Unicorn Startup Companies spreadsheet contains, you can here download a free sample. This extract of both spreadsheets includes all the data of the first 10 startup companies in both spreadsheets, together with the explanatory notes of the description spreadsheet. For more information about each column data, please see below.
Details of the 580 Unicorn companies list Excel file data
Here is a presentation of the information included in each column of the main and secondary XLS spreadsheets. The data can be sorted and filtered according to each column, through the filter button present in the right of the column's headings cells.

1. Information included in the main "Unicorn Startup Companies" Excel spreadsheet
All data included in the main Excel spreadsheet are updated as of the end of the first quarter of 2020.
▪ Company
Usual name of the Unicorn company. (One cell for each company in the Unicorn list)
▪ Industry
Main industry of the company.
▪ Website
URL of the company's main website with a direct link.
▪ Valuation (US$ B)
Valuation of the company from the latest funding round, in Billion US Dollars. The valuation is recorded as the highest credible amount by comparing three different sources: Crunchbase, CB Insights, and Wikipedia.
▪ Valuation date
Date of the last known funding round of the company, according to either Crunchbase or CB Insights, whichever was the most recent.
▪ Total Equity Funding (US$ M)
Total known equity funding raised by the company since its origin in Million US $. When not available in US Dollars, the total equity funding amount of the company was converted to US Dollars from the local currency with the official closing exchange rate on April 8, 2020.
▪ Known Investors
List of known investors who contributed to the company's different funding rounds.
▪ Wikipedia URL
URL with direct link to the company's main page on Wikipedia.
▪ Description
Succinct description of the company's activities, retrieved from the introduction of the Wikipedia page of the company.
2. The secondary Excel spreadsheet, with the 101 excluded startup companies, regroups the same information and columns, except for the "website" and "description" columns. An additional "Status" column was recorded to describe why the startup company is not included in the main list of unicorn startups. Another column of "Notes" is also included to provide details on companies that are currently inactive and/or facing legal issues.
Information that is unavailable at the time of the creation of these lists is marked "N/A".
For a complete preview, download the free spreadsheet sample.
Download technical details
Type: Excel file (.xlsx/.xls)
Size: 216 Ko
Spreadsheets: 3

1 sheet containing the 580+ Unicorn Startups Companies 2020 information with filters
1 sheet containing the 101 Excluded Startup Companies with filters
1 sheet with the detailed description of the data included in the 2 other spreadsheets

Author/Editor: Disfold